Zero Requiem
Talk

0
590pages on
this wiki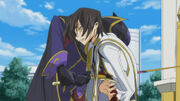 Zero Requiem (ゼロ・レクイエム, Zero Rekuiemu) is a plan created by Lelouch and carried out with the assistance of Suzaku and possibly C.C. to end all war and to usher an age of peace. The plan involved focusing all of the world's hatred on Lelouch, then have Suzaku disguised as Zero kill him, dissipating the hatred and allowing the world to focus on more important matters than fighting, such as reconstuction, thus facilitating peace. Lelouch arranges the public execution of The Black Knights' leaders and the United Federation of Nations representatives. When Suzaku, disguised as Zero, interrupts and kills Lelouch, the culmination of the Zero Requiem as they had planned. By directing all the hatred of the world onto him, Lelouch's death will serve to facilitate peace. He dies smiling, saying he is the one who both destroys worlds and creates them. Suzaku is left to play the role of Zero. Nunnally can only watch in shock. When Lelouch falls near her, she takes his hand and realizes that he has sacrificed himself on purpose to bring world peace. Lelouch dies in the arms of a crying Nunnally, who then succeeds her brother as Empress of Britannia.
Aside from Lelouch, Suzaku and C.C., several other key characters knew about Zero Requiem, including Jeremiah Gottwald, Lloyd Asplund, Cécile Croomy, Sayoko Shinozaki and Nina Einstein, while others such as Nunnally, Kallen, the core Black Knights members and Cornelia only realized it during and after his execution.
Suzaku becomes Nunnally's protector in the following months, aided by Schneizel, who Lelouch ordered to specifically obey Zero. The aftermath is narrated by Kallen, who ends up forgiving Lelouch as she has realized Lelouch's true intentions were noble and explains how the world is much better off with all the energy being focused on reconstruction.
The idea of Zero Requiem is similar to Treize Krushrenada from Gundam Wing whereas he lead the Romefeller and World Nation, believed that Relena is the leader needed for the future who cannot lead Earth into wars, and allowed Wufei to slay him during their duel. He understood that his death, as a powerful symbol of wartime and the old guard, was necessary for the future of Earth Sphere. Lelouch displayed this similarity by focusing all of the world's hatred into him after taking over UFN as a Britannian Emperor and having Suzaku who was disguising as Zero kill him in the end. Both methods resulted in peace and no longer led to wars and having all nations under one banner.