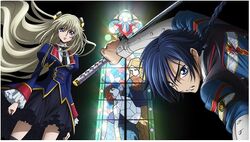 We recently found out that Code Geass would be coming out with an alternate third season! Check out some of the new artwork from Code Geass Gaiden: Bokoku no Akito with its traditional CLAMP influences and the new promo video!
Read our previous post to find out more details about the alternate world!
Gallery
Video
Ad blocker interference detected!
Wikia is a free-to-use site that makes money from advertising. We have a modified experience for viewers using ad blockers

Wikia is not accessible if you've made further modifications. Remove the custom ad blocker rule(s) and the page will load as expected.