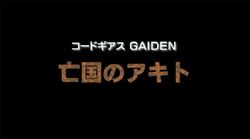 There will be another Code Geass anime coming out in 2012! Since Lelouch vi Britannia is dead and the storyline was fairly complete, how will this new season proceed?
This "next season" will be taking place "in the same world as Lelouch [the protagonist of the earlier Code Geass anime] except with different characters (...) the stage is set in Europe, so we'll see a lot of European countries."
Interesting...same universe, different characters! Officially titled Code Geass Gaiden: Bōkoku no Akito, there's a confirmed side story of Zone Eleven kids operating their Knightmare Frames with 5% chance of survival.
Are you intrigued? Interested? Will you watch without the core characters of the original anime?
For More Information
Code Geass Gaiden: Bōkoku no Akito
Source
Ad blocker interference detected!
Wikia is a free-to-use site that makes money from advertising. We have a modified experience for viewers using ad blockers

Wikia is not accessible if you've made further modifications. Remove the custom ad blocker rule(s) and the page will load as expected.