Radiant Wave Technology
Talk

0
622pages on
this wiki
The Radiant Wave technology was developed by Rakshata Chawla. It is initially employed as a weapon by the Guren Mk-II as the Radiant Wave Surger. It causes a chain reaction in Knightmare Frames which usually results in the parts expanding and eventually exploding, likely due to liquids present. With the Guren Flight-Enabled Version, it receives a new Armour Piercing Bombardment-type Radiation Wave unit which has the effect to internally damage systems by spreading the energy in a wide area in a Knightmare to neutralize and disable it with examples of the Tristan and the Mordred during Operation Pacific Ocean Ambush.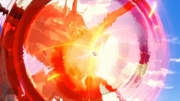 The only known way of halting the chain reaction is to eject the damaged parts before they reach other parts. Initially, its range is just for close quarter combats; but it was soon upgraded to have a longer range (either taking the form of a straight beam or a wide-spread beam). It was further more improved when the Guren Flight-Enabled Version was captured and its Radiant Wave Surger was reversed engineered by the Camelot (it could now fire disk-shaped radiation beams and also project a radiation blade), which was fitted to the
Guren S.E.I.T.E.N. Eight Elements
.
Eventually, this technology was developed into a shield system known as the Radiant Wave Shielding because it naturally dissolves bullets and could cancel other weaponry such as the VARIS and is integrated into the Black Knights' Knightmares such as the Zangetsu and the Akatsuki Command Model Zikisan. Airships like the Ikaruga was also equipped with the Radiant Wave Shielding which is capable of cancelling stronger weaponry or even falling rocks.
It was also developed to be a missile warhead which were usually used by the Akatsuki Command Model Zikisan which causes the same effect when it hits a Knightmare.