Pollux rui Britannia (パラックス・ルィ・ブリタニア, Parakkusu ru~i Buritania) is a character exclusive to the Nintendo DS video game and a member of the Britannian Imperial Family. His twin brother is Castor rui Britannia. He pilots the Knightmare Frame, Equus. Pollux possesses the same Geass ability as his half-brother, Lelouch, though when brought against one another his seems to be inferior. He is frequently mistaken for his brother, much to his annoyance, he possess a pair of golden eyes and a much more mischievous face than his brother.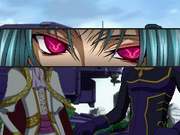 Ad blocker interference detected!
Wikia is a free-to-use site that makes money from advertising. We have a modified experience for viewers using ad blockers

Wikia is not accessible if you've made further modifications. Remove the custom ad blocker rule(s) and the page will load as expected.