Takeshi Nagata (永田剛, Nagata Tsuyoshi) is a Japanese and was a member of Ohgi's Resistance Group.
Character Outline
Edit
According to the commentary for "The Day a New Demon was Born", Nagata was a potter before he started fighting in the resistance. He was also married to an unknown woman, and had a daughter with her.
Character History
Edit
First Season
Edit
Nagata first appears along with
Kallen
driving a truck that they stole which is supposedly containing a capsule full of poison gas. However, the
Britannian Military
arrives to stop them. Kallen, then uses a
Glasgow
in order to fight back against them. Initially, Kallen is able to defeat them until
Jeremiah Gottwald
appears. Nagata suggests that they split up to get a better chance of survival. However,
Villetta Nu
appears and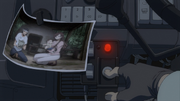 tries to stop Nagata. Nagata makes it in the underground, but is severely injured earlier from Villetta. In a dying attempt to stop
Britannia
, he activates a self-destruct function to destroy the truck along with the
Britannian
Soldiers. He had unknowingly saved the life of
Lelouch Lamperouge
, who was about to be executed by the Britannian royal guards.
Ad blocker interference detected!
Wikia is a free-to-use site that makes money from advertising. We have a modified experience for viewers using ad blockers

Wikia is not accessible if you've made further modifications. Remove the custom ad blocker rule(s) and the page will load as expected.