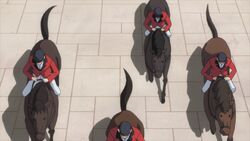 The Equestrian Club is one of many clubs recognized by Ashford Academy. Specializing in horse back riding, the Equestrian Club is most probably considered a very prestigious club to enter. As in most societies, membership is usually reserved for the Nobility or people of wealth. In most equestrian clubs all members have the responsibility to take care of their horses or hire someone to take care of it for them, because neglecting your own horse is usually frowned upon. Rolo reveals that Lelouch is a member of the Equestrian Club but it is unclear if he was a member before his memory was wiped.
Ad blocker interference detected!
Wikia is a free-to-use site that makes money from advertising. We have a modified experience for viewers using ad blockers

Wikia is not accessible if you've made further modifications. Remove the custom ad blocker rule(s) and the page will load as expected.