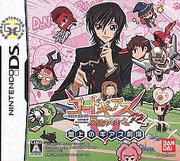 Code Geass: Lelouch of the Rebellion R2 - Banjou no Geass Gekijou is the 3rd game developed about code geass for the Nintendo DS and released on Aug 7, 2008 in Japan. It is a collection of minigames featuring Super Deformed forms of the characters. The player moves along a board through dice rolls, landing on different spots to activate minigames. The minigames are parody-style events with multiple genres. These include helping Jeremiah grow oranges, racing against C.C. and Shirley in swimming, and a sidescrolling beat-em-up featuring Kallen in Guren-like armor.
Characters
Edit
Rai is your player in versus mini-game. The Male is default in Mini-Game Gallery, but you can play female when Game is progress during female.
Non-Playable Character
Edit
Touch to Go! Gallery
Edit
Yes, Your Majesty
Edit
Yes, Your Highness
Edit
Yes, My Lord
Edit
References
Edit
Ad blocker interference detected!
Wikia is a free-to-use site that makes money from advertising. We have a modified experience for viewers using ad blockers

Wikia is not accessible if you've made further modifications. Remove the custom ad blocker rule(s) and the page will load as expected.