Code Geass: Lelouch of the Resurrection (コードギアス 復活のルルーシュ, Kōdo Giasu: Fukkatsu no Lelouch) is the upcoming third installment of the anime series, Code Geass directed by Gorō Taniguchi and produced by Sunrise Inc. The story takes place several years after Lelouch vi Britannia's "Zero Requiem" plan.[1]
Production
Edit
Announcement
Edit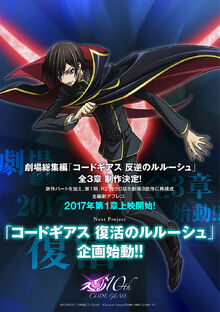 On October 8, 2016, ten years since the anime's first television screening, Sunrise announced via a celebratory 10th Anniversary website that a special event titled "Code Geass: Lelouch of the Rebellion: Anniversary of a Miracle" was to be held in Maihama Amphitheatre in Chiba Prefecture on November 27 that same year.[2][3] Select fans of the franchise were given invitations to the event which contained a secret code that hinted at the "Rebirth of the Demon".[4]
At the event itself, it was announced that the series would get a third installment which is set to take place several years after the events of the second season with Lelouch being a main character. The format of the installment has not yet been stated. A promotional video for the anime featuring characters such as C.C., Suzaku Kururugi, Jeremiah Gottwald, Cornelia li Britannia and Kallen Kōzuki was also screened after a stage appearance of director Gorō Taniguchi, screenwriter Ichirō Ōkouchi and voice actors Jun Fukuyama (Lelouch vi Britannia), Takahiro Sakurai (Suzaku Kururugi), Yukana Nogami (C.C.), Ami Koshimizu (Kallen Kōzuki) and Ken Narita (Jeremiah Gottwald) as well as a performance by ALI PROJECT and Hitomi Kuroishi. The proceedings of the event will be streamed by Bandai's Anime Channel service on December 23, 2016. The DVD and Blu-ray Disc release of the anniversary event will be on April 21, 2017, priced at 5800 JPY and 6800 JPY respectively. It will include a 2-hour digest video of the event's stage performance. As bonuses, it will include a poster by Takahiro Kimura, a post card collection by Kimura and RICCA, a booklet, and 10-minutes worth of bonus video content, these being the picture drama that debuted at the event, a new short titled Resurrection! Miracle of Baba Theater (復活!キセキのBABA劇場, Fukkatsu! Kiseki no Baba Gekijō)​, and the promotional video that announced the new project. A three-part film series was announced alongside the third installment. It will recap the entirety of the first and second season of the main series with rerecorded voice acting and new scenes. The first film opened in 2017. [5][6][7]
Notes and Trivia
Edit
An unnamed black Knightmare frame appears in the trailer that is nearly identical to the Lancelot Albion, albeit with wings more reminescent of those of the Guren S.E.I.T.E.N..
Another frame that is likely the Shinkirō also appears, and there is a brief glimpse of what appears to be the Guren S.E.I.T.E.N. in another shot.
External Links
Edit
Official Site (Japanese)
Code Geass 10th Project Official Site (Japanese)
References
Edit