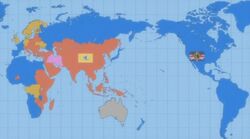 The World History of the Code Geass Universe differs markedly from our own, mostly in the outcome of major battles and war, but also in the appearance of materials like Sakuradite and immortals like C.C..
Imperial Calendar
The Imperial Calendar refers to the date and setting Code Geass uses in the English version, in which years are labeled as a.t.b or "Ascension Throne Britannia". It is set to the date the first Celtic super-king, Alwin I, was elected by the united British tribes to battle Rome, becoming the first member of the modern Britannian imperial family. This calendar is used by the Holy Empire of Britannia. It functions similarly to the standard Gregorian Calendar ("B.C./A.D."), but is set on same years. However, in the Japanese version uses C.E. instead of A.D. which means "in the near future." It officially starts on won the independence from the Roman Empire of Augustus reign. (27 B.C. - 14 A.D.)
What calendar the other nations may use is unknown.  The fact the birth of Christ is not used may suggest that Christianity was never established in this Universe; however, in the English dub, Lloyd mentions "Onward Christian Soldiers", Christ is mentioned at Shirley's father's funeral, and the appearance of a Catholic Nun in the second season suggests that it does exist but may not be widely subscribed to. Most Britannians do not appear to practice Christianity while some do, as Shirley Fenette's family is shown to practice a form of Protestant Christianity, likely Anglicanism. Indeed, religion is rarely mentioned in the original Japanese version, but is referenced more frequently in the English dub.
As referenced in Code Geass: Akito the Exiled, the Europia United shown is using the French Republican Calendar. The first entry in Leila Malcal's journal in the first episode of Code Geass: Akito the Exiled is dated as "Revolutionary Calendar, year 228, Floréal 18th" (a.t.b. May 7, 2017). As the events of the first episode of Akito the Exiled occur in the year 2017 a.t.b., it is safe to assume that the Revolutionary Calendar starts with the Storming of the Bastille, which occurred at July 14, 1789 (2017 - 228 = 1789). It revealed as set on same year in our world.
Timeline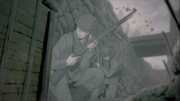 Story order
Prequel
2017 a.t.b.
2018 a.t.b.
Nightmare of Nunnally and Suzaku of the Counterattack are non-canon and not belong on this order.
References
↑ "Campus Festival Declaration". Code Geass. episode 21. season 1. 2007-03-15. Mainichi Broadcasting System.

 
Ad blocker interference detected!
Wikia is a free-to-use site that makes money from advertising. We have a modified experience for viewers using ad blockers

Wikia is not accessible if you've made further modifications. Remove the custom ad blocker rule(s) and the page will load as expected.